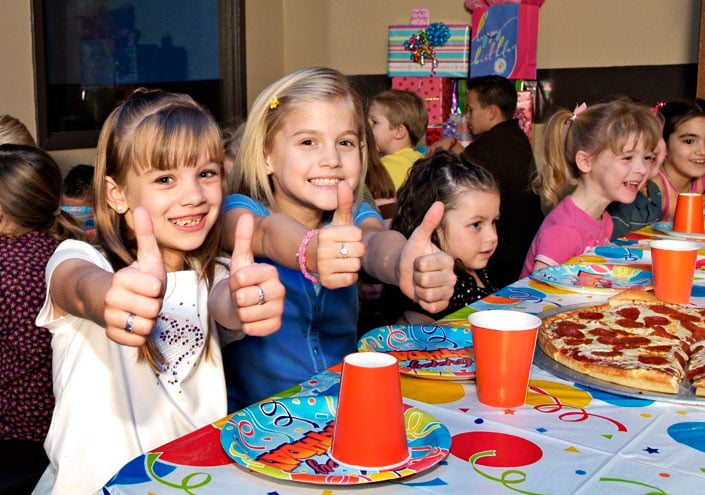 Checking Out Birthday Party Places in San Jose? Golfland Wins Hands Down!
Have the Time of Your Life at Golfland Emerald Hills
If you are looking for an interesting birthday party venue in San Jose, nothing comes close to the unique ambience and entertainment-packed options at Golfland Emerald Hills. Families and friends in Saratoga, Campbell, Morgan Hill, Gilroy, Cupertino and Almadent love to celebrate birthdays and other special occasions in our theme park. Whether the party is for toddlers, kids, adults or seniors, we have something for everyone. Make your San Jose birthday celebrations extra special with thrilling water rides, electrifying gaming arcades, and child-friendly mini golf courses. We take care of all the party arrangements, so you can simply show up with your group and have the time of your lives at Golfland!
Celebrate Birthdays in Style at Golfland in San Jose
The enthusiastic party staff at Emerald Hills Golfland will organize the entire event for you. From sending out party invitations and arranging festive table settings, to hosting table games and taking care of all other party logistics, our party planners will do it all. Here's what you need to finalize:
Venues within the park: Do you want to host your celebration across the entire park, or keep your group together in a specific area?
Enjoy a wacky celebration, where your guests tee off and compete in the lush settings of our two mini golf courses.
Splash, slide, and soak up the fun, as you host a sensational party at Golfland Water Slides. Our twisty water slides and refreshing pool below will leave your gang thirsty for more!
Take your celebrations to the next level by hosting your group at the arcade and get exclusive access to classic and modern video games. Let your guests chase dragons, race around the world, shoot aliens, battle Kung Fu Masters, and more. All our party packages include 200 arcade credits per guest, even if you host your celebrations elsewhere within the park.
Birthday packages: What kind of party package do you need? While our basic package includes up to 10 guests and all the party essentials, you can also choose a number of upgrades:
Add party hours at the table, or increase the number of table games

Get additional arcade credits or goody bags

Order more of our mouth-watering food and non-alcoholic drinks

Organize special activities for parents while hosting a kids' party
Enjoy an Epic Birthday Celebration at Emerald Hills Golfland, San Jose
Since 1953, Golfland has been a world-class venue for birthdays, school or family reunions, bachelor and bachelorette parties, and several other milestone celebrations and special events. All our parks offer safe, affordable, wholesome entertainment, and excellent party arrangements. Our highly trained party planning team designs interesting experiences that cater to all ages and ensures that your celebrations are a huge success. Families and social groups visit us from all over the San Jose area, including Saratoga, Campbell, Morgan Hill, Gilroy, Cupertino and Almadent.
Eager to host a celebration at Emerald Hills Golfland? You won't be disappointed. It's the best birthday party place in San Jose! Call us at 408-225-1533 to learn more about our party arrangements or reserve your party online.