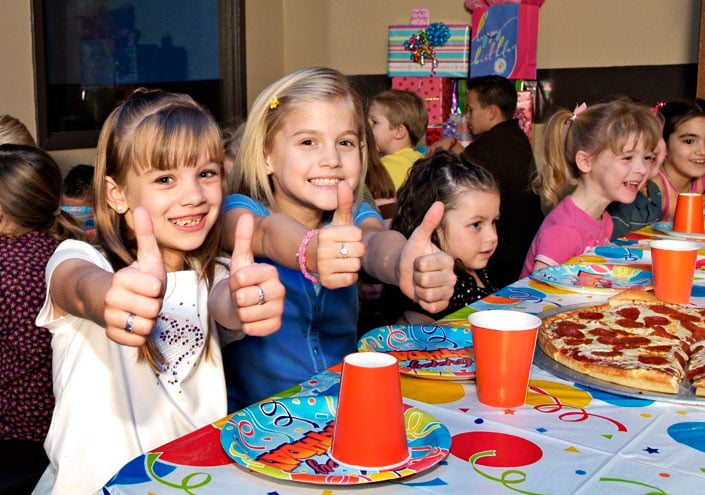 Cool Birthday Party Ideas
Want Some Really Cool Birthday Party Ideas?
Golfland Takes Fun to a Whole New Level!
Looking for cool birthday party ideas for a one-of-a-kind celebration? Bring your guests to a Golfland location near you. Simply show up, have a blast, and enjoy our delicious food and warm hospitality. From party invites, catering and festive settings, to arcade credits, goody bags, and table games, our event crew will handle everything for you.
Create Lasting Memories at Golfland
Whether it is for a toddler, teen, kid, adult, or senior, Golfland's theme parks and water parks offer action-packed excitement for all ages. There is always something interesting for everyone!
Select a package: Evaluate our birthday packages to figure out which one best meets your requirements and budget. The base package usually includes food and drinks, party settings, table reservations, and arcade game credits. In an upgraded package, you can get extra food items, goody bags, additional game credits, and special activities for the parents, when you host kids' parties.
Choose fun for everyone: Let your guests explore the rides and attractions across the entire park or choose a specific area to host your celebrations. Plan activities that suit your group's size, age group and interests. While children may enjoy our laser tag or bumper cars, teenagers may prefer the adrenaline rush of the thrill rides. If it is an adult's or senior's birthday, you may want something that is fun and engaging, but not over-the-top. Go for the classic arcade games or indulge in a few rounds of mini golf.
Make milestone birthdays extra special: Celebrating a sweet sixteen, fabulous fiftieth, or a sparkling seventieth? Our experienced and trained party planners would be happy to make your milestone birthday or themed parties even more special.
Add to the excitement: While all our venues are totally amazing, you can add to the excitement with some of these cool birthday party ideas:
Organize a friendly competition to enjoy the wacky twists and turns of our award-winning mini golf courses.
Crown the champion who can chase aliens, battle Kung Fu Masters, race on tricky tracks, or win skill games at the Arcade. Our enormous arenas include a good mix of games, including the old favorites and the latest hits.
Get into a futuristic mood and strategize your 'intergalactic escape' in our space themed laser tag stations. You could even make this a costume laser tag party by asking your guests to come dressed as their favorite Star Wars character.
Shift gears to the fast lane and flag off a group race on our Indy car racing tracks. Let everyone compete to navigate the curves while making their way to the finish line.
Slide, splash, soak, and make waves at one of our water parks. Host mini competitions on the various water rides.
Throw an Awesome Birthday Party at Golfland!
Since 1953, Golfland has been a top choice for celebrating milestones and life events. Our friendly and capable crew handles everything and keeps your party on track. Visit one of Golfland's seven California locations to celebrate the birthdays of family members, friends, colleagues and loved ones. Each party will be a one-of-a-kind experience, contributing to everlasting memories.
All set for a unique celebration? Try some cool birthday party ideas at a Golfland location near you. We look forward to partying with you!