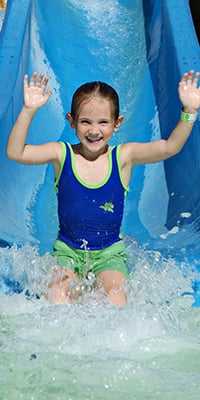 Emerald Hills Golfland: The Premier Water Park Near San Jose
Enjoy the Ultimate Wet n' Wild Experience
Whether you are looking for a lazy, cool dip, or a big splash, the Emerald Hills Golfland water park near San Jose makes for an ideal fun destination. Reconnect with family, friends or co-workers and enjoy a truly memorable water park experience. Our top rated, family-friendly attractions include the twisty Golfland Water Slides that wind their way down into a refreshing pool.
Located near the intersection of the 85 Freeway and Almaden Expressway on Blossom Hill Road, Emerald Hills Golfland is the perfect spot for a fun outing near San Jose. The water slides are open late in the evening during the summer, and from 10.00 a.m. to 7.00 p.m. on weekends through the rest of the year.
Our San Jose Water Park is Perfect for Special Events
No matter who you bring along, your entire group will love the water slides at San Jose's Emerald Hills Golfland. From birthdays, anniversaries and reunions, to workplace milestones and social club get-togethers, we serve as the perfect backdrop to celebrate all types of special events.
In addition to having a blast on the water slides, you can:
Put your putting skills to the test at our 18-hole mini golf courses. Both our courses take you on a spectacular journey through fountains, castles, beautifully manicured gardens, and more.
Bring out your inner child while playing an extensive range of retro favorites, as well as the most up-to-date video games at the arcade. Redeem your points for a bunch of fun prizes.
Enjoy delicious snacks and beverages, including pizzas, nachos, pretzels, soft drinks, Icees, and thick, creamy milk shakes.
Large groups can use our special event planning and convenient catering services. Call us for great deals on group packages and make the most of our thrilling rides and warm hospitality.
Getting to San Jose's Emerald Hills Golfland
Getting to San Jose's premier water park, Emerald Hills Golfland, is very easy. Just take the West Valley Freeway (Highway 85) to the Santa Teresa Boulevard exit, and continue traveling south on Blossom Hill Road, then turn east. We are within a 25 to 30 minute drive from the towns of Cupertino, Campbell, Morgan Hill and Gilroy, and about 50 minutes away from Sunnyvale and Mountain View, CA.
Have a Refreshing Day at Emerald Hills Golfland
Golfland loves San Jose! Better known as the heart of Silicon Valley and home to an ever-thriving technology industry, San Jose also has deep agricultural roots. In fact, in the late 1800s and early 1900s, the valley in which the city is located was popular for its many orchards that lent the air a sweet fragrance all year round. Today, with over 1 million residents, San Jose boasts numerous activities and attractions, making it a hot business destination, as well as a family-friendly entertainment hub.
Ready for a soaking, splashing outing to beat the California heat? Head to the vibrant Emerald Hills Golfland water park near San Jose today!
Learn more about our park hours and events and ticket prices. You can also take advantage of exclusive rates with online ticket purchase.