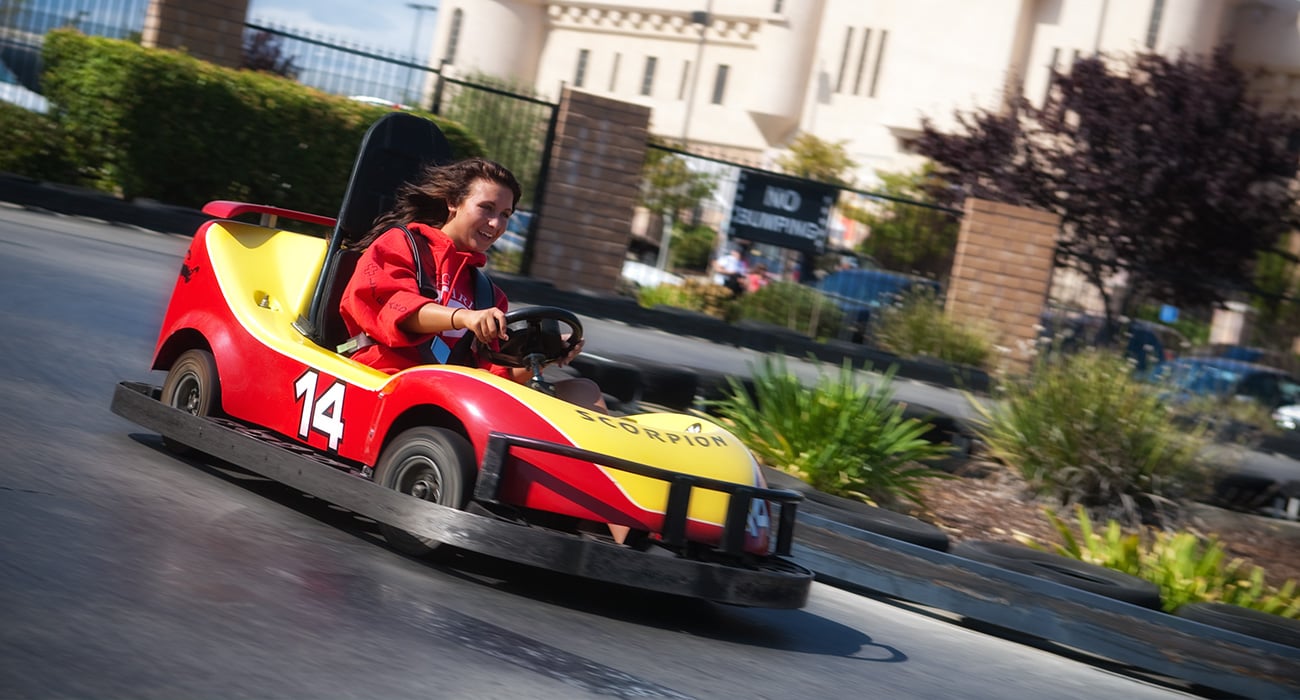 Go Cart Racing in Anaheim, Fairfield, Roseville
Enjoy Go Cart Racing in Anaheim, Fairfield, and Roseville
Ready, Set, Go! Hit the Tracks at Golfland Parks
Young or old, go carting is always a thrilling experience. At Golfland, we offer exciting racetracks and many other attractions that appeal to people of all ages. From mini golf to water slides, arcade games and laser tag, you can plan a whole day of fun. Whether it is for your family, friends, team or that special someone, check out our locations for go cart racing in Anaheim, Fairfield and Roseville, CA.
Ideas for Go Carting Events at Golfland
Romance in the fast lane at Camelot Anaheim: Get your hearts racing as you go head-to-head in a mad dash for the finish line. Whether it is your first date or a milestone anniversary, go carting makes for great memories of fun times with your beloved.
Party on the L'il Indy race track at Scandia, Fairfield: The birthday boy or girl and all their invitees will enjoy the adrenaline rush of racing around on our mini-Indy race track. We have well-maintained carts that are easy and fun to ride. If you're planning a theme party or event, ask about a variety of themed invitations and decorations.
Bond with the family at Sunsplash in Roseville: Unwind and have fun as you compete with your kids, siblings, cousins, aunts and uncles. Note: Guests under 58″ must ride with an adult 18 years or older. All passengers must be at least 40″ tall, 3 years old and weigh at least 45lbs.
Get together with friends: Go carting is a popular choice for bachelorette and stag parties. Enjoy a thrilling day navigating your way around the curves and lines on our tracks. You will have plenty of opportunity to show off your driving skills.
Motivate the team: Schedule a breakfast or lunch event at Golfland for your staff. Our race track is the ideal place to encourage some friendly competition and fuel team spirit. You don't have to worry about organizing the event; we have experienced staff to take care of all the arrangements. Let us handle the food, drinks, table settings and email invitations, so you and your group can simply have fun.
Host the Perfect Go Carting Event at Golfland
Have a blast with family, friends and colleagues at Golfland. Whether you choose our Anaheim, Roseville or Fairfield location, you can be sure to cherish a memorable experience. Beautiful locales, thrilling activities, delicious food and professional, friendly staff will keep you coming back.
Come have fun in our world-class amusement parks. We look forward to entertaining you and your guests.
Visit us today. Click here for Golfland go cart racing locations in Anaheim, Roseville and Fairfield, CA.