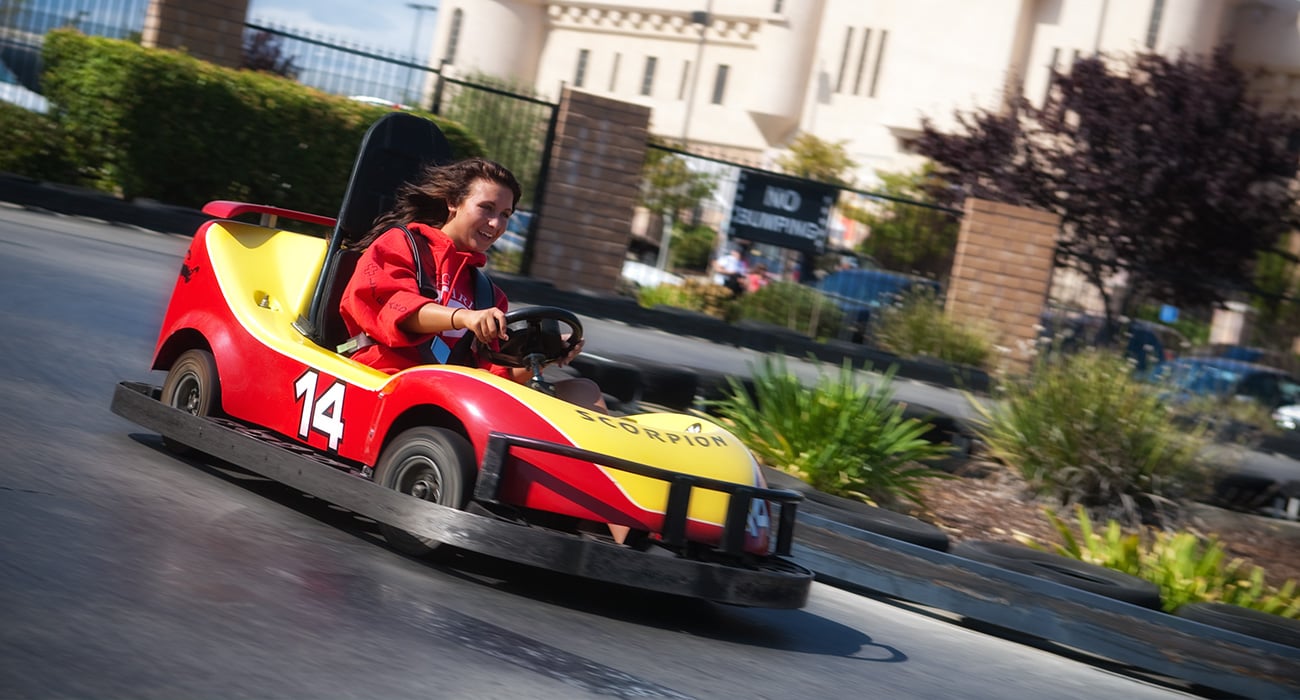 Want the Most Fun Activity? Go-Cart Racing Takes the Prize at Golfland!
Enjoy the Ride in a Safe, Fun-Filled Setting
Dreaming of the wind in your face, the rev of the engine, and the joy of making it to the finish line first? Experience the adrenaline rush of fast cars on a go-cart racing track at a Golfland theme park near you. There's no better way to indulge your racing fantasies than to compete with fellow drivers and beat everyone to the checkered flag. Among all the exciting attractions at Golfland, go-cart racing takes the prize!
Life in the Fast Lane at Golfland's Go-Cart Racing Tracks
Racing in a video game or racing on the track? No matter what you prefer, most Golfland locations have a car racing attraction for you:
Put your pedal to the metal for a full 6 minutes on the Fastcar Raceways track at Camelot Golfland in Anaheim.
Have a blast in the fast lane at the winding Fastcar Raceways of Golfland Sunsplash in Roseville (near Sacramento) or Mesa.
For IndyCar lovers, the Scandia Golfland in Fairfield offers its own Lil'Indy Raceway.
Here's how you can make the most of go-cart racing at the various Golfland theme parks:
Fun for Everyone: Almost anyone can try their hand at go-cart racing at Golfland. You just have to be:
Over 3 years old
Over 45 lbs. in weight
Over 58" tall
If you are less than 58", but over 40" tall, you can ride with an adult, 18 or older, in one of our double seat cars.
Safety and Comfort: Show off your driving skills in a safe, comfortable setting on a well-supervised track. While our courses may not let you drive as fast as Jimmy Johnson or Jeff Gordon, you will still be able to experience the thrill and challenges of speed racing that test your NASCAR or Indy-style skills.
Drive Responsibly: No matter how safe the tracks are, don't forget your responsibilities as a driver:
Tuck in your loose clothing and hair.
Keep your seat belt strapped on at all times.
Place both of your hands on the wheel and keep your legs inside the car.
Drive to Win: Adopt a winning strategy to race your way to the finish line.
Start at a lower speed to get a feel for the car.
Brake gently and along the straight line before turning in for the corner.
Move to the inside of the corner to minimize your angle and time with each lap.
With each lap, gain some speed by accelerating slightly harder and braking a little later.
Keep a good line around the corners and be as smooth as possible.
Take the Prize at Go-Cart Racing – Ready for the Challenge?  
Leave the freeway traffic behind and race your group to the finish line at one of the exciting, open-air, Golfland go-cart racing tracks near you. While you're there, challenge your gang to a host of other activities, such as laser tag, arcade games, bumper cars, mini golf and more. Enjoy our heart-thumping entertainment, delicious food and warm hospitality.
Since 1953, Golfland has provided wholesome, affordable entertainment to Bay Area families, corporate teams, sports leagues and other social groups. No matter what occasion you are celebrating, our dedicated party planners can make your special event even more memorable.
Go-cart racing takes the prize at Golfland. Are you all set to conquer the tracks and feel the rush? For a sensational, winding track, click here to find a Golfland location near you.