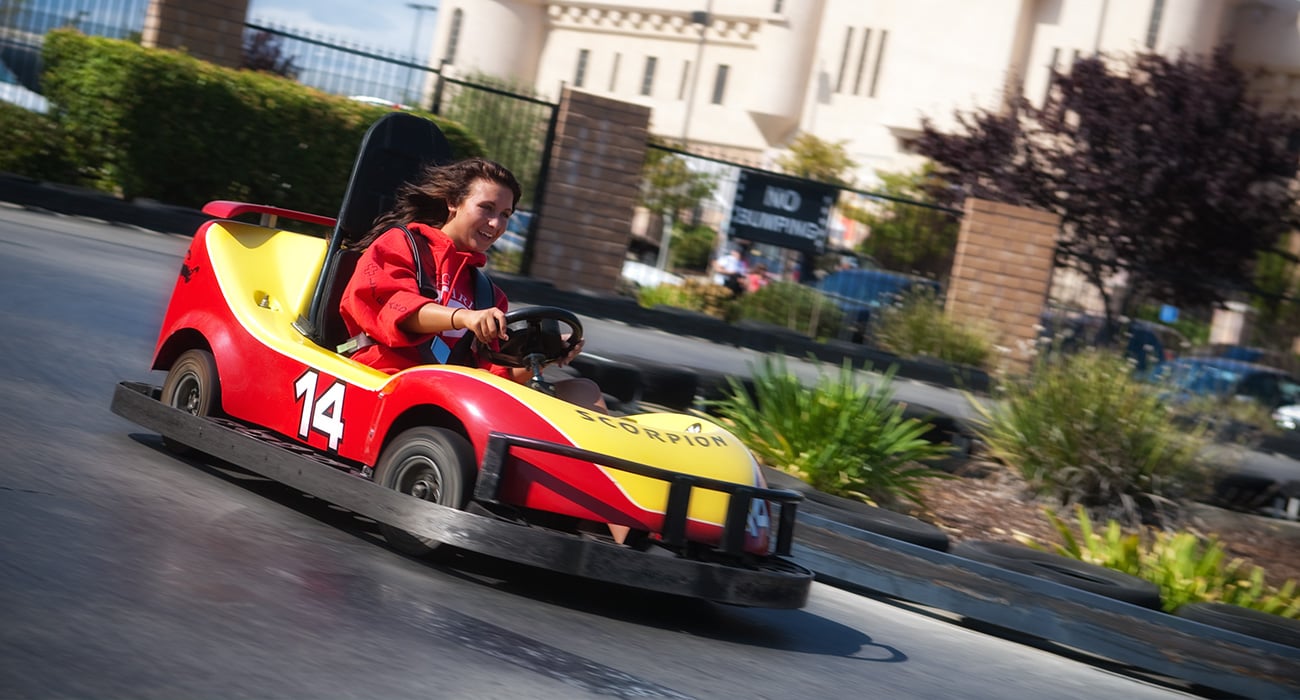 Go Cart Racing Tips from the Pros at Golfland
Celebrate Your Victory on the Race Track with Other Special Attractions
Looking for a fun activity for date night? Planning a birthday celebration? Need ideas for an upcoming team event? Try go carting at Golfland. It's a safe choice for adults and kids (follow age recommendations). New to car racing? Here are some expert tips to prepare you for that victory lap.
10 Techniques to Make You the Fastest Go Cart Racer
You don't have to be a professional to try go cart racing. Anyone can do it. Once you get familiar with the track and learn some essential techniques, you might even be ready to turn pro!
Sit properly: Sit with your back up against the seat. Leaning forward can slow you down.
Keep a sturdy grip on the wheel: Keeping your hands placed symmetrically gives you better maneuverability and control on the turns.
Be smooth with all the controls: Steady steering, braking and throttle helps you go faster.
Look ahead on the track: This helps you prepare your next moves, avoid unnecessary braking and maintain your high speed.
Stay straight for as long as possible: Frequent turning and swerving around other drivers or changing acceleration will slow you down.
Never brake and accelerate at the same time: The engine will stop if you do this.
Do not brake while turning: You could lose traction and spin out more easily. It is best to brake when you are in a straight line.
Follow faster drivers: Keep a safe distance and then accelerate to get past them when you have the opportunity.
Maintain a distance: This will minimize the chances of a slower driver getting in your way.
Compete for the best time: Passing other drivers will not help you win but clocking the fastest time will.
Enjoy Go Cart Racing at Golfland Locations
Our amusement parks are very popular for birthday parties, family celebrations, team events and fundraisers. While you may be drawn by the excitement of go carts and bumper cars, there are plenty of other activities you should try. Our 18-hole mini golf course, games arcade and special attractions cater to people of all ages and interests. Try our catering service if you have a large group and choose from a range of delicious platters. Guests love the variety and convenience offered by our snack bar.
Whether you are racing our mini Indy bumper cars, playing putt-putt at our world class mini golf courses or getting some serious action at our games arcade and laser tag arena, you can plan on a full day of fun.
Go Carts are available at our Fairfield, Anaheim, and Roseville locations.  Bumper Cars are available at our Anaheim and Milpitas parks.
Visit us today. Click here to find the nearest Golfland location and try our go cart racing tips to leave your competition in the dust.