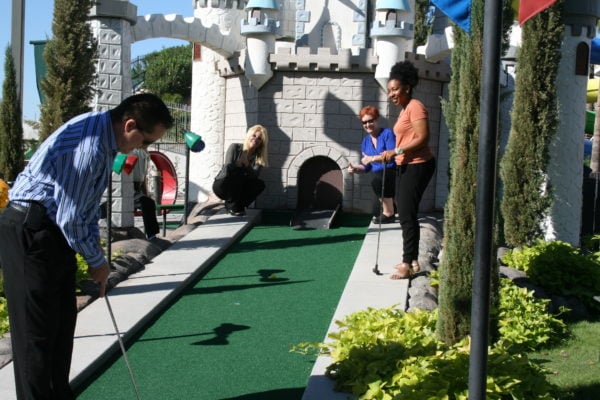 Exciting Group Events Ideas for Adults
Exciting Group Events Ideas for Adults
Mini Golf, Go Carts, Laser Tag, Water Slides and More…
Need some inspiration for a milestone birthday celebration, corporate team-building activity or fundraiser? From mini golf to laser tag, go carting, water slides and more, Golfland offers thrilling ideas for adult group events.
Organize Your Celebrations and Team Events at Golfland
At Golfland, we provide more than entertainment. Event planning for your group is easy with all the essentials checked off the list. Email invitations, table settings, delicious food and drinks; our experienced crew takes care of everything so that you can relax and join the fun.
Discover the next mini putt champion: Whether you are coming with family, friends or co-workers, grab your putters and head to our world-class mini golf courses. We have numerous beautiful locations across California to break out the golfer in you. You can visit us in San Jose, Anaheim, Fairfield, Roseville, Milpitas, Castro Valley, and Sunnyvale. Enjoy wacky challenges that bring out the kid in everyone, delighting the pros and newbies alike. You could be the next mini putt champion!
Challenge the sales team on the L'il Indy racetrack: Racing around on our mini Indy racetracks can help boost employee morale, competitiveness and team spirit. Navigating the curves and lines excites adults of all ages. We can organize the food and drinks before or after your go carting
Be the master of every game: Plan your next birthday party or special event at our huge games arcade. Race around the world, engage in battle with Kung Fu masters, shoot aliens and robots and play skill-testing games. You and your guests can redeem your arcade tickets for wild prizes to take home.
Play laser tag at your corporate or stag party: Looking for some serious action that encourages teamwork? Want to have a blast with the boys at your stag party? Our state-of-the-art taggers are for the young at heart, not just kids.
Create waves on the weekend: Our water slides and bumper boats take thrills and chills to the next level. Cool off after the excitement of mini golf, laser tag or the games arcade, in our waterpark.You know it already; every adult is just another big kid!
Fun for Everyone at Golfland
Since 1953, families, corporate teams, fundraising groups, sports leagues, scout groups and more, have enjoyed thrilling activities, delicious food and warm hospitality at Golfland. Large groups can take advantage of convenient event planning and catering services provided by our team of friendly and efficient staff.
A group of adults together can have just as much fun as kids, if not more!
Click here to find your nearest Golfland location and plan group events for adults with some new, exciting ideas.