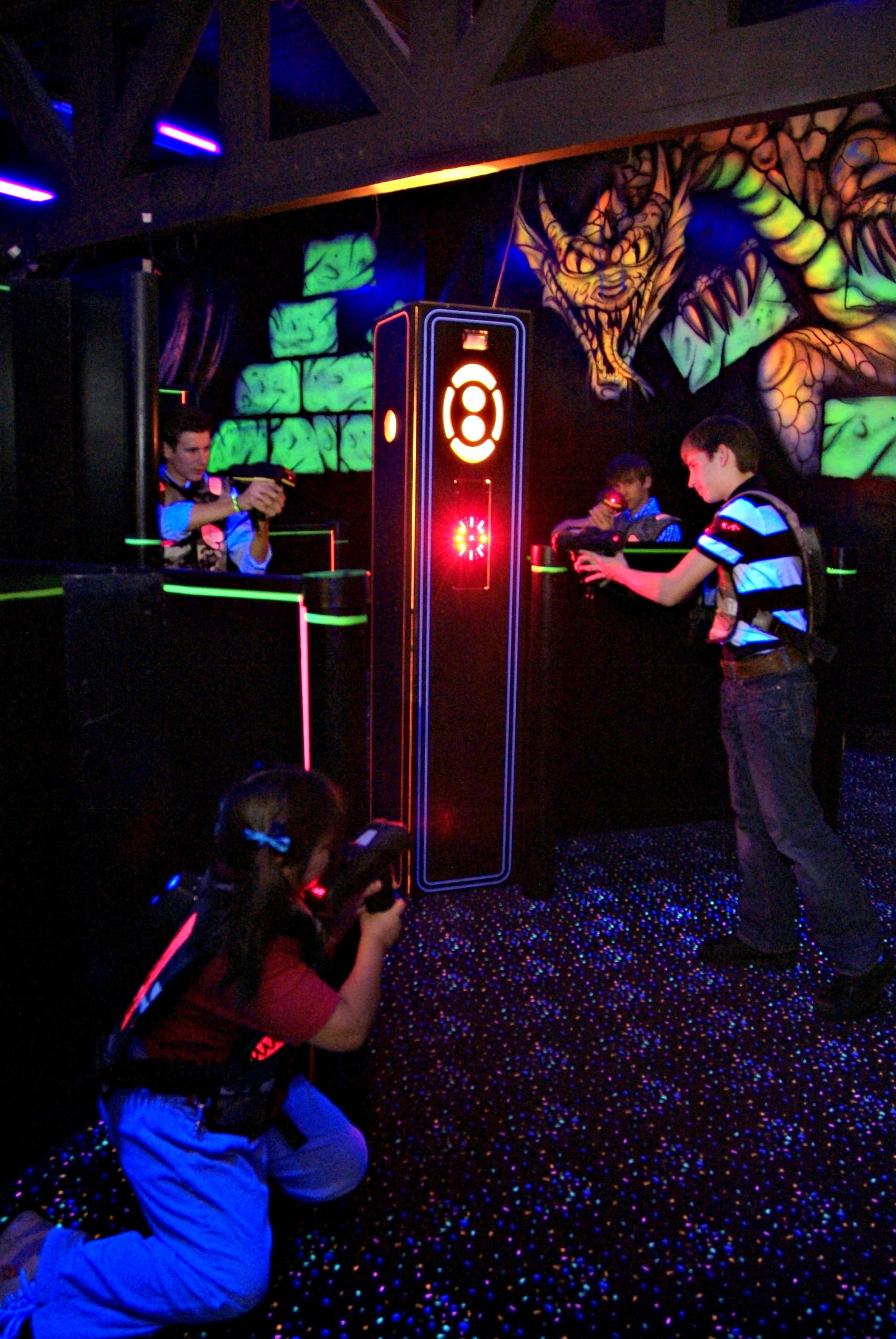 Have a Laser Tag Party Close to Sacramento
Fun, Excitement, and Education – All Rolled into One Game!
Looking for a fun, action-packed activity that you can enjoy with your group? Have a laser tag party close to Sacramento, at a Golfland location near you. Whether it is for casual meetups, milestone celebrations, or team outings, laser tag parties can combine entertainment and education in an exciting and unique setting.
Create Everlasting Memories at Laser Tag Parties in Golfland
Choose from multiple locations close to Sacramento: Golfland features some of the best arenas for laser tag parties, close to Sacramento.
A 25-minute drive away, Golfland Sunsplash, Roseville welcomes you to challenge your group at its state-of-the-art laser tag arena, 'Lazer Knights'.
About a 45-minute drive from Sacramento, Scandia, Fairfield's laser tag facility, 'Lasertron' mimics a futuristic space station. It can accommodate as many as 50 people in a single game.
If you don't mind traveling a bit further, Milpitas Golfland features not just laser tag, but also a Laser Maze. It challenges you to make your way through a web of lasers without triggering the alarms.
Enjoy adrenaline-pumping action while challenging yourself and your group at a laser tag party at Golfland. After the game, reminisce the highs and lows with your team as you share a meal or make your way to other areas of the park. From wacky miniature golf courses and arcade games, to Indy car racetracks and wet n' wild water rides, there is plenty to choose from.
Create a learning experience: There is much more to laser tag than just holding and pointing guns and shooting at your opponents. This versatile game has the potential to create interesting learning scenarios without being stuck in a boring, classroom setting. For example, here are some aspects you could discuss in a post-game debrief:
Picked a captain or played without a team leader?
Identifying good attack and cover points?
Created smart protocols to communicate with your team during the game?
Know how to crouch low and defend yourself?
Fired rapidly or waited for the perfect shot?
Stayed in one safe spot due to fear of the unknown, or took risks and moved around in the arena?
These unique teachable moments could help in polishing various skills, including strategic thinking, leadership capabilities, survival techniques, team management, and more.
Point, Shoot and Have a Blast at a Laser Tag Arena in Golfland!
Whether you come with family, friends, colleagues, sports team buddies, or any other social group, participating in a laser tag party at Golfland is always an electrifying experience. When you visit, don't miss the other rides and attractions, as well as our delicious food and warm hospitality.
Since 1953, Golfland's theme parks and water parks have been a top choice for non-stop, safe, and affordable entertainment for people of all ages. From casual meetups and educational trips, to special events or milestone celebrations, we add a generous dose of fun to every outing. Large groups can take advantage of our dedicated event planning and catering services.
Planning an upcoming laser tag party close to Sacramento? Find your nearest Golfland location and experience unlimited fun!