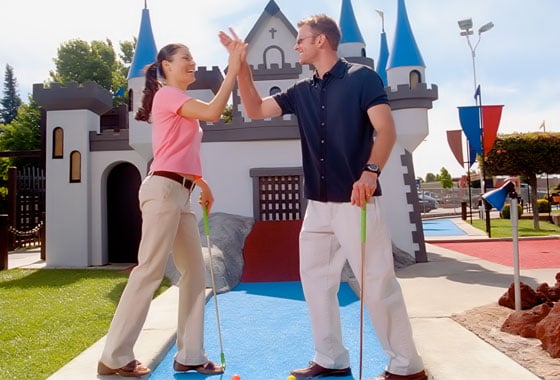 Check Out More Date Night Ideas from Golfland
Our Special Attractions Create Memorable Experiences
Looking for exciting activities that will put a spark into your relationship? Need some quality time to keep the romance going? Bring your special someone to Golfland. Whether it is your first outing, an anniversary, or a milestone year, your date will appreciate the opportunity to get away from routine and have fun! Check out the awesome list of ideas below for your next date night.
Exciting Golfland Activities for You and Your Date
Tee off your love story on the golf course: Break the ice with a couple of rounds of mini golf in the evening. The excitement and challenge leave no room for awkwardness. The laughter at the hits and misses will keep you going for hours. You do not have to be pros to enjoy our whacky, award-winning mini-golf courses.
Win her heart at the games arcade: Pull out all the stops with a little bit of friendly competition with the latest arcade games and some that will take you back in time. Few gals and guys can resist the thrill of playing arcade games. Childhood favorites like 'Shoot the Aliens' bring a warm and fuzzy feeling. To be a real winner, hand over your tokens to your date so they can have a keepsake to remember the fun they had with you.
Spice up your evening with laser tag: This electrifying game is a hit with couples of all ages and will get you moving and laughing together. Invite other couples if you want to have your own laser tag team. Running around a dark room tagging people brings out the inner child in everyone. Your date will love the adventure; win or lose, it will be fun!
Rev up the romance with bumper cars or boats: Forget the predictable, humdrum dinner and movie idea. Instead, you and your date can zoom around our Lil' Indy racetrack or take a spin in our bumper boats with built-in water squirters. You don't need a license for this wild ride and are actually encouraged to bump people out of the way. Enjoy life in the fast lane, together.
Make a splash at a water park: Who can resist the thrill of twisty water slides or family-styled rafts? It's a great way to beat the summer heat. For a relaxed afternoon and to get to know your date better, try our lazy river or shallow haven called 'Adventure Island'.
Plan an Unforgettable Date Night at Golfland
Make it a date to remember at the Golfland nearest you. Putt-putt, go cart racing, bumper boats, water slides, laser tag, arcade games—you name it, we have it. Our amusement parks are a hit with couples of all ages and popular venues for family celebrations, fundraisers and team events. Our cafeterias offer a fresh and delicious menu. Large groups can take advantage of our convenient catering service.
Visit us today. Click here to find the nearest Golfland location and check out more date night ideas.  Get your tickets online and save time and money!