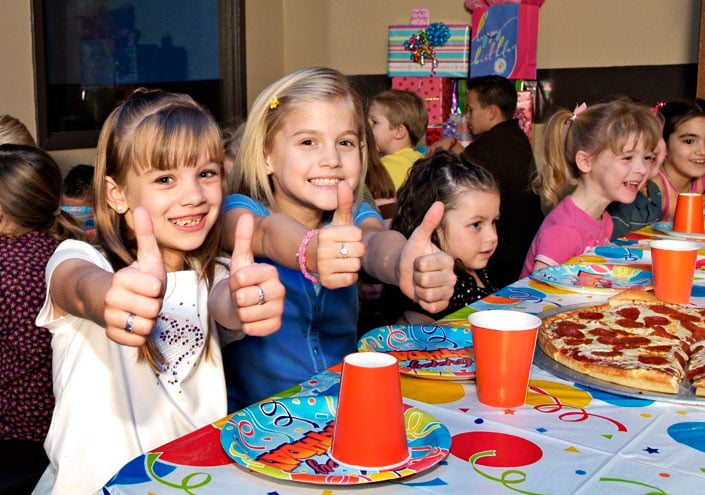 Need Birthday Party Ideas?
Do You Need New Birthday Party Ideas?
Check Out Golfland's Special Attractions
Looking for an exciting place to host your child's upcoming birthday celebration? Teen, tween or 5-year-old, Golfland offers a magical experience for people of all ages.
Adults enjoy our special attractions just as much as the little ones. From mini golf to water slides, arcade games, laser tag and race cars, we have a thrilling mix of activities for you and your guests. If you need birthday party ideas, read our suggestions below and you have loads of fun guaranteed!
Special Birthday Celebrations at Golfland
Host a wacky mini golf par-tee: Putt-putt thrills young kids, teenagers and adults alike. Ask your invitees to dress up in their wackiest costumes and watch Bob the Builder, Dora, Buffy and Jack Sparrow swing into action on our world-class courses. Golf ball invitations are the easiest ones to create. Decorate the party room with green and white balloons and a string of colorful pennants to get everyone in the mood.
Celebrate your gamer at our huge arcade: Get them out of the house! Even if it is to play more video games. A combination of old favorites and the newest games provide hours of fun. Every gamer leaves on a winning note with crazy prizes from our points redemption counter. Super Mario, Luigi, Pac Man, Lara Croft; there are so many party costumes for your guests to choose from.
Escape the world with laser tag: Gather the storm troopers and escape from the galaxy for an electrifying laser tag party. The guys and gals can come as their favorite Star Wars character—Princess Leia, Darth Vader, Yoda, Han Solo or even R2-D2. Eighteen or forty, shooting laser guns at the aliens is a hit with all age groups. Invitations, decorations and costumes are also easy to find.
Shift gears to the fast lane in our Indy-style go carts: All your wannabe Lil' Indy stars will be raring to go even before you wave the flag. Revving it up in the fast lane is every kid's (and grownup's) dream. You might have a pro in the making! Disney's Cars and the Fast and Furious series offer plenty of inspiration for costumes, party décor and giveaways.
Create waves at our water parks: If you are looking to host a 'cool' party without themed costumes, our water parks are ideal. Few can resist the thrill of going down twisty water slides, riding family-styled rafts or bumper boats armed with squirters. All your guests need is swimwear, sunscreen and a fun spirit.
Sit Back and Enjoy Your Birthday Party at Golfland
Just chill while your guests have a blast. Golfland's capable crew can handle everything; email invitations, table settings, delicious food and drinks. All you bring is the cake and any additional decorations you want.
Golfland has been the preferred choice for family celebrations, team events and fundraisers since 1953. We look forward to partying with you!
We have several locations in California and Arizona to serve you.
Click here for the nearest Golfland location. Visit us today if you need more birthday party ideas.