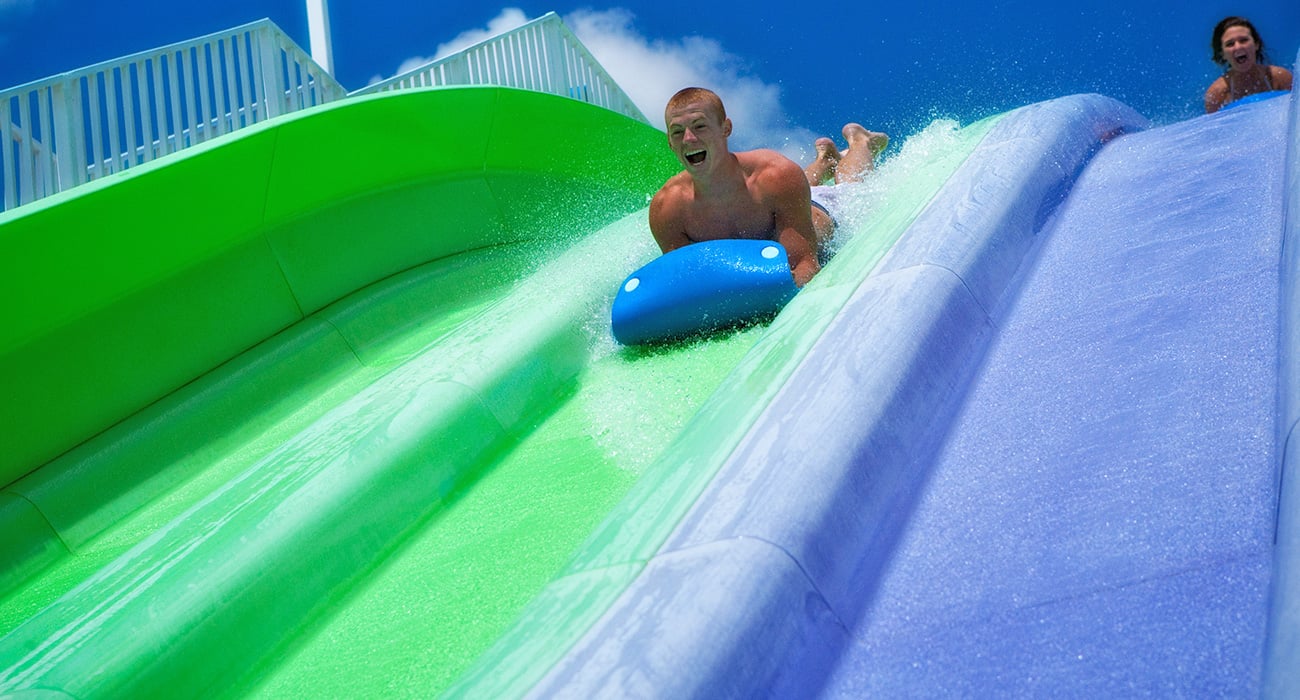 Splash Pads and More at Golfland Water Parks
Golfland's Water Parks Have Fantastic, Wet n' Wild Experiences – Splash Pads are Just One of Our Features!
When it comes to fun-drenched aquatic experiences, splash pads are just one of many exciting features in Golfland's water parks. We have a host of other activities that can make your day exciting and memorable. Enjoy the adrenaline rush of our wave pools, thrilling waterslides and daredevil water coasters. Lounge in the lazy river, go crazy in the splash pads, or chill out in our zero-depth water play areas. Grab some delicious food while moving from one attraction to another. Golfland water parks feature loads of wet and wild experiences for all ages.
Splash Pads, Rides, Slides and Pools: Fully Loaded Water Parks in Golfland
Whether you are spending the day with family, friends, colleagues, or a loved one, Golfland's water parks have an exciting range of aquatic activities. While splash pads are just one of our water park features, here's a peek into other activities at our water parks in Arizona and California.
Get Wet and Wild at San Jose Emerald Hills

Slide down 7 stories in 8 seconds flat in the Double Dare waterslides.
Drop into the refreshing water pool.
Cool off and have a great time all day!
Safe and fun for the whole family!
Beat the Heat at Sunsplash, Mesa, AZ

Slide down 7 stories in 8 seconds flat in the Double Dare waterslides.
Enjoy a family raft ride at Thunder Falls.
Don't miss a ride on the Master Blaster Water Coaster.
Grab the sides of your floating bowl and brace yourself for a near vertical fall in the Stormrider.
Line up under a giant tipping bucket that pours gallons of water in the Caribbean Water Works play area.
Ride the waves in Sunsplash's centerpiece attraction, the Thunder Bay Wavepool.
Explore several other speed slides and twisty slides. Land in the refreshingly cool water pools or bowls below each ride.
Spend a Splashing Day at Sunsplash, Roseville, CA

Go head first on water mats as you race your friends down the high-speed Six Chuter water slides.
Experience Northern California's most exclusive thrill ride, The Stealth, as you head straight down a 5-story half pipe and drop into the crystal-clear water below.
Ride together with your child or a friend and catapult 7 stories down into a giant water bowl at The Revolution.
When you need a break from the heart-thumping rides and slides, relax in comfortable floating tubes at the Bermuda Triangle.
Wade, splash, or simply chill out in the shallow waters of Adventure Island.
Enjoy a Cool, Refreshing Outing at Golfland Water Parks
Since 1953, Golfland theme parks and water parks have been a premier destination for family-friendly fun and entertainment. Featuring a plethora of aquatic activities, our water parks cater to toddlers, teens, adults and seniors. There is always something interesting for everyone—splash pads are just one of our fun features! If you are thinking of visiting with a large group, count on our friendly and dedicated team to organize convenient planning and catering services.
Click here to find your nearest Golfland water park today.