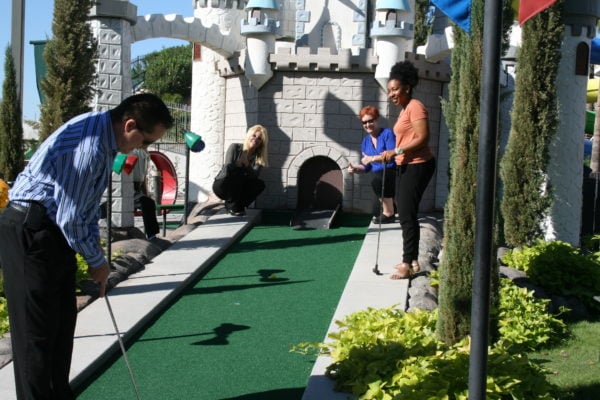 Trends in Mini Golf Courses
Mini Golf Courses are Evolving
Golfland is On Trend, Offering Fun for All Ages
Changing times call for changes all around. Why leave mini golf behind? Over the years, mini golf courses have transformed from set themes into wholesome entertainment hubs that appeal to all ages. The greens at Golfland's theme parks keep up with the changing times, offering family-friendly excitement in modern settings. Bring your group for a round or two of mini golf and enjoy many other attractions and delicious meals at one of our locations near you.
The Changing Face of Mini Golf; Less 'Standard', More Fun!
Gone are the days of traditional, gimmicky mini golf courses. No more boring courses where you are putting into a clown's mouth or a devil's eye. Changing times have led to a reboot of mini golf, transforming it into an energetic sport with multi-level challenges. Themed props have made way for landscapes with ponds, waterfalls, large rocks, trees, sand traps, flower beds and other natural elements. Bendy turns, tricky holes, and other unexpected bumps and rolls keep your adrenaline pumping throughout the length of the course.
At Golfland, we pride ourselves on 19 unique mini golf courses across our 8 parks in California and Arizona. Over the years, many of them have won awards and found their way into 'best miniature golf course' lists. All our beautiful, 18-hole courses feature wacky challenges that range from easy to difficult. Immerse yourself in a jungle safari, aquatic journey, treasure hunt or rescue mission through forts, castles, and gardens. No matter what your skill level, use our lush, vibrant mini golf courses to:
Perfect your swing and master your hole-in-one shots
Strategize and outwit tricky obstacles
Bond with the family and share a few laughs
Spend quality time with your special someone over a mini golf date
Unwind and treat yourself to loads of fun after a stressful day at work
Celebrate a special occasion by battling for top scores with friends or colleagues
Mini Golf is the Perfect Entertainment for All Occasions
Golfland's trendy mini golf courses draw in people of all ages and are the highlight of various occasions and celebrations. Since 1953, our theme parks and water parks have served as iconic venues for non-stop entertainment across multiple locations in the U.S. Our dedicated guest relations team offers comprehensive event planning and catering services for large groups.
Ready to have a great putting time at Golfland? Click here to find your nearest Golfland mini golf course today.