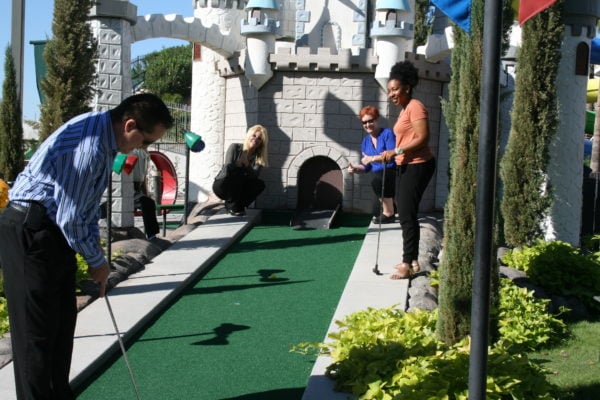 Try These Mini Golf Game Ideas for Even More Fun at Golfland
Mini Golf Game Ideas for More Fun
Make Your Trip to Golfland Truly Memorable
Planning a putt-putt event for the family, a group of friends, your colleagues, sports team or local club? The beautiful award-winning courses and wacky obstacles at Golfland provide 18 holes of fun for people of all ages. Our delicious snacks, meals and beverages will keep you fueled for all the action. Try some of these unique mini golf game ideas for a whole lot more fun.
Creative Ways to Enjoy Mini Golf
When you want to have fun, no idea is too crazy. Here's how you can get creative with our 18-hole mini golf course.
Hole 2: Introduce some competition by dividing your group into teams of two. Pair a man and woman together for more fun. Let them take turns.
Hole 6: Raise the challenge bar. Play this hole with your left hand if you are right-handed and vice-versa.
Hole 7: Turn around, face backward and putt the ball through your legs.
Hole 8: Try sideways soccer. Turn to your left or right and tap the ball in with the side of your foot. One chance only!
Hole 9: Hold the club like a pool cue and guide it in.
Hole 11: Change it up again! Blow the ball in the hole. You get 5 chances to put it in.
Hole 14: Show some control! Putt the ball as close to the hole without putting it in. Two strokes only. The closest one wins. Deduct points if the ball goes in the hole.
Hole 15: Putt the ball in with your hand. Don't use the club!
Hole 17: Chose one of your favorite crazy ways to play the hole and do it again. 
At Golfland, you can do more than play golf! Other exciting activities like go carting, laser tag, arcade games, bumper boats and water slides will keep your group entertained throughout the day.
Plan Your Next Mini Golf Event at Golfland
Toddlers, tweens, teens, adults and seniors can all enjoy Golfland's entertainment parks in California and Arizona. Our delicious food and warm hospitality make it a memorable day. Large groups can take advantage of event planning and catering services provided by our dedicated and friendly team.
Click here to find your nearest Golfland location and try creative mini golf games for more fun.