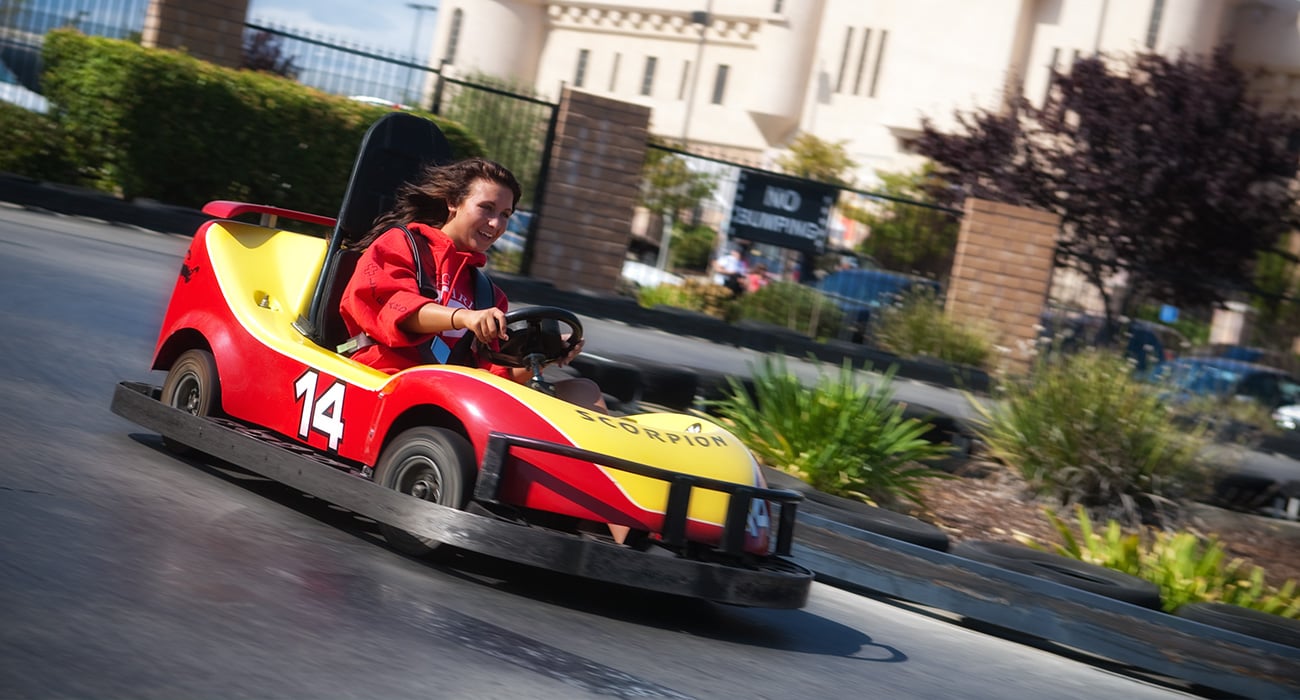 What to Pack for a Day at Golfland
If You Know What to Pack for Golfland, You Know How to Have Fun!
Prepare for an Uninterrupted, Fun-Filled Day
Whether you are planning a family outing or celebrating a special event, knowing what to pack for Golfland will help you make the most of your fun trip. Carrying the right accessories, change of clothes, and specific items needed by young ones or seniors will save you time and stress. From wet wipes for baby to aqua shoes for grandma and everything else you might need, here's a handy list of what to pack for a day at Golfland.
Packing Tips to Enjoy Your Day at Golfland
No matter why you're visiting Golfland, and with whom, some items are essential for a trip to one of our theme parks or water parks.
Bathing Suits, Towels and Extra Clothes: While our water parks in San Jose, CA, Mesa, AZ and Roseville, CA offer numerous aquatic rides and activities, most of our other locations also feature some water fun. Keep a bathing suit and towels with you and carry an extra set of clothes. If you spill something, have a fall, or get sweaty, a quick change of clothes will offer much-needed relief. When you are heading to one of our water parks, know that we only allow access to the water rides and slides if you wear proper swimwear.
Floatation Devices: Our parks have strict policies against arm floats, inflatables, swim noodles and other swim toys. Do not carry these items; save yourself the trouble of lugging them back to the parking lot. You can bring in US Coast Guard-approved life jackets, if you do not wish to use the ones that we offer. (It is mandatory for children under 48″ to wear life jackets on the water rides). If you have toddlers with you, remember to carry their swim diapers. If you forget, we provide vinyl ones at the entry gate. (Diapers are compulsory for all toddlers, even if they are potty-trained).
Sun and Water Accessories: Pack your sunscreen, sunglasses, hats, sun coats and any other items that can come to your rescue on a hot, summer day. Try to bring more than one pair of footwear. While sneakers or sandals will help you walk around the park comfortably, flip flops or water shoes will be useful in the water play areas and on water rides. If you or anyone in your group needs timely medication, don't forget to carry that for your Golfland day trip.
Water and Food: Stay hydrated and drink plenty of water to maintain your energy levels through the day. However, pack only factory-sealed bottled water, as we do not allow you to carry outside food and drink into the parks. You can purchase delicious meals and a wide range of beverages from the various stalls and eateries within our premises. While you can bring baby food or bottles, they cannot be in glass containers.
Lastly, don't forget to pack a great, fun attitude to make the most of your exciting outing at Golfland.
Prepare for Unlimited Fun at Golfland
A day at Golfland can be as exhilarating and hassle-free as you want it to be. Prepare well and know what to pack, so that you can make the most of your time with family, friends and colleagues. Our dedicated and friendly team will be happy to assist in comprehensive event planning and catering services for large groups.
Click here to find a Golfland theme park or water park near you.