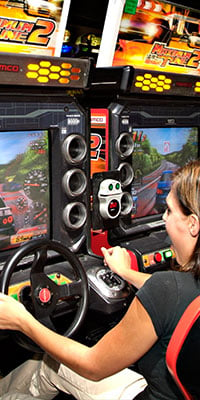 Enjoy Rainy Day Fun at Golfland's Arcades
Brighten up a Dull Day with Exciting Indoor Entertainment
Dull, wet weather giving you the blues? Is the rain making your little ones restless indoors? Head out for some rainy day fun at a Golfland arcade near you. After all, what better way to lift your spirits and entertain kids, than to indulge in pure, old-fashioned, video games! If you are in or around Fremont, Sacramento, or Mountain View, Golfland's arcades are never too far from you. Enjoy our exciting indoor games, delicious food, and warm hospitality.
Arcade Games for All Ages. Come Play!
Every Golfland location features a gaming parlor, generously packed with fun and entertainment. Here are some of the highlights of Golfland's arcades:
Wide choice of games: All our arcades boast the most popular games and video attractions, including the old classics and new releases. Whether you prefer to chase aliens and robots, battle Kung Fu Masters, race around the world, or test your memory or shooting skills, there is something for everyone. Choose from an extensive range of games that will keep you entertained for hours.
Swipe and play options: We offer a convenient card system that helps you maximize your time in the arcade. Simply load money onto a card, so that there are no interruptions while moving from one game to another. If you are visiting with children, imagine the number of trips it will save you to the cash counter! Once you finish playing, head to our redemption counters to exchange your game winnings (tickets) for great prizes.
Exclusive access: Golfland is open 7 days a week, so you can visit us without planning in advance. However, if you wish to celebrate a special occasion or host a large group of family and friends to beat the rainy weather, many Golfland locations offer special after-hours packages. These packages allow you and your group exclusive access to the arcade. No waiting in line, no sharing the space; simply take over the entire arcade and make the most of the time with your near and dear ones.
Chase, Shoot, Race: Have Loads of Rainy Day Fun at Golfland's Arcades
Since 1953, Golfland has been offering non-stop, indoor and outdoor entertainment to families, friends, sports teams, church groups, fundraising groups, corporate teams, and more. Our theme parks are a top choice for safe, affordable and unlimited fun. Large groups will enjoy our convenient event planning and catering services.
A rainy day escape, a casual evening, a weekend recreation, or a special event or party, Golfland's amusement parks and arcades pack in loads of fun for all ages and occasions.
If you are in Fremont, head to Milpitas Golfland. From Sacramento, our closest park is Scandia Golfland in Fairfield. Mountain View residents have easy access to Golfland Emerald Hills in San Jose.
Looking for other Golfland Arcade locations to make the most of rainy day fun and games? Click here to find a Golfland park near you.