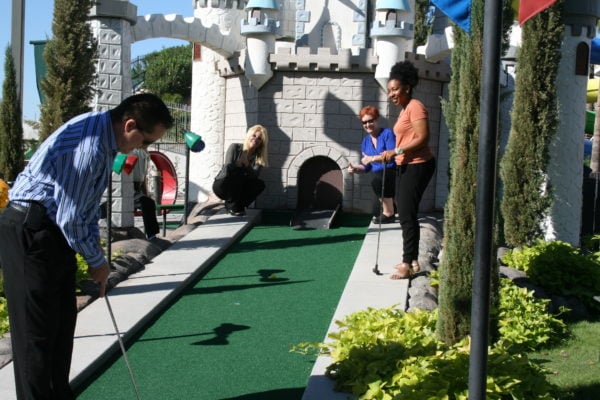 Host Your Team Party at Golfland
Why Host Your Team Party at Golfland?
Loads of Exciting Activities for all Ages – that's Why!
Looking for creative ways to celebrate with your sports teammates or work colleagues? Host your team party at Golfland. Make your next celebration the best ever and create lasting memories at one of our theme parks or water parks near you. Our experienced party planners take care of everything to keep your celebrations on track and ensure that your party is a grand success.
Kick Back, Relax, and Enjoy at Golfland
It doesn't matter if your team consists of adults or kids, sports buddies or workplace partners, you can celebrate your wins and achievements by hosting your team party at Golfland. All our locations feature a ton of exciting rides, activities and attractions for all ages.
Hassle-free celebrations: Instead of taking on the stress of organizing a party and doing a million tasks by yourself, simply book a catered party at a Golfland location near you. On the day of your celebration, just show up with your group and enjoy your day out. Our event crew handles all the party logistics, including customized catering, invitations, festive settings, arcade credits, goody bags, and more. We even host a few table games and offer other interesting ideas to elevate the excitement levels within your group.
Year-round comfort and convenience: Each Golfland location offers a wide range of indoor and outdoor activities. Which means, come rain or shine, you can host your team party at Golfland. With a vibrant, buzzing environment and practical conveniences, our parks serve as party central all year round!
Star attractions: From award-winning mini golf courses and fully-loaded gaming arcades, to heart-thumping thrill rides, and unique water attractions, there is so much to experience at Golfland. While the possibilities are endless, here are a few ideas to help you plan:
Mini-Golf: Master your strokes and navigate the wacky obstacles at our beautiful, themed mini golf courses. Why let the competition stop on the field when you can carry it over to a few fun rounds of crazy putt-putt?
Arcade Games: Wake up your inner child as you beat Kung Fu masters, fight aliens, or race your way out of a tricky maze in our games arcade. Don't forget to redeem your tickets for some awesome memorabilia.
Laser Tag: Divide your group into teams and compete with laser guns at our action-packed Laser Tag station. Shh! This could be your secret agenda for promoting team building skills. Use the game's outcome to chat with your group on aspects, such as mutual respect, collaboration, leadership, and decision making.
Make Your Next Team Party the Best Ever at Golfland!
Every team's success and milestones deserve applause. Give your team a unique and memorable event at Golfland. Since 1953, our seven California theme parks and water parks have served as exciting venues for special celebrations. Plan your upcoming team party with us, and experience destination 'fun unlimited'!
All set to host your team party at Golfland? Contact us to learn more about our park locations and group event packages.